EXERCISES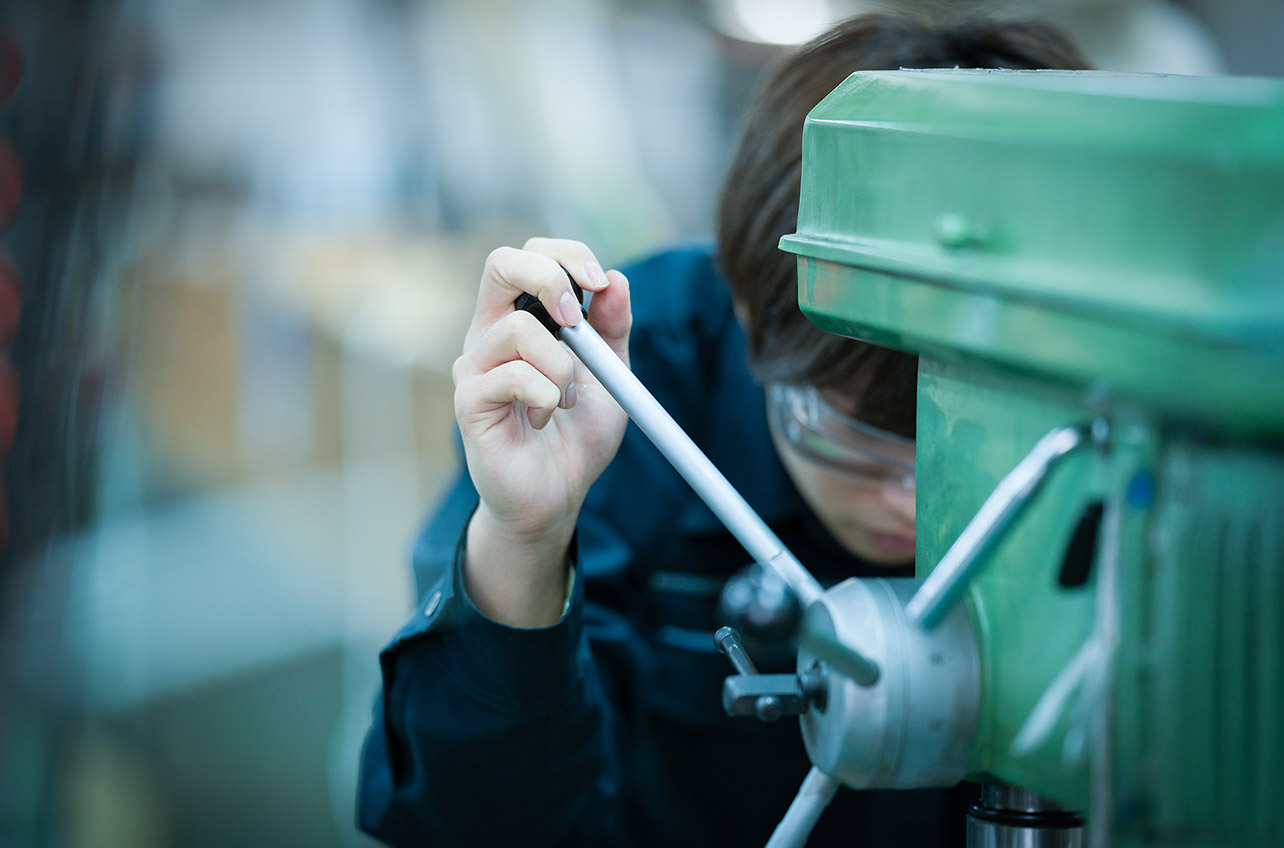 In the third year, the department provides each student with a laptop for hands-on learning of practical manufacturing.
Our curriculum places a strong emphasis on the development of communication skills and leadership through engaged discussions among the students themselves.
3rd Year S Semester
Stirling Engine Design Exercise
[SE Exercise]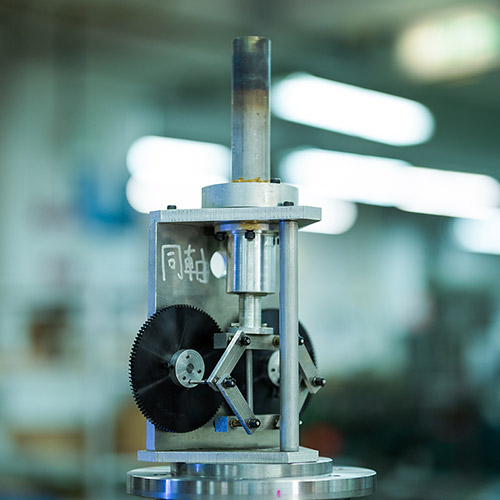 Objectives

Mechanical engineering is an applied discipline rooted in practical knowledge about manufacturing. Students acquire knowledge of the four fundamental mechanics (Mechanics, Thermodynamics, Fluid Mechanics, and Materials Mechanics), as well as design and production through lectures and practical exercises. The Stirling engine not only serves as the application of waste heat recovery but also incorporates fundamental principles from these four mechanics: ・Thermodynamics for converting heat into power ・Fluid mechanics for controlling internal flow ・Materials mechanics for selecting suitable materials and shapes ・Mechanics for the mechanisms that convert reciprocal motion into rotational motion It also nurtures design and production skills by integrating these essential principles into the development and manufacture of real engines.
Contents

Students are organized into groups of four to six students, with each group tasked with designing and building their own original Stirling engine. Over approximately 2 weeks' worth of afternoon exercise time, students undergo the entire process of a Stirling engine fabrication. It includes concept design, design based on the four mechanics, drafting, machining, assembly, and measurement, all carried out independently by themselves. Since everything from concept design is left to the students, a wide variety of engines are produced, including those that are "focused on power," "focused on efficiency," "focused on interesting movements," or "focused on weight reduction. During the manufacturing phase of the engines, students have access to a range of large machines, including lathes and milling machines. The Stirling Engine Exercise is renowned in the mechanical engineering department, drawing the active participation of faculty members and teaching assistants who provide invaluable support. Beyond the design and fabrication stages, all students and teaching staff get together for a presentation, where the students showcase the highlights of their concepts and the culmination of their work. In addition to the Stirling Engine Exercise, the department offers a wide range of experiments and computational exercises, providing students with hands-on experience in actual product manufacturing. This hands-on approach is a distinctive feature that sets us apart from other engineering departments. Videos showcasing the Stirling Engine Exercise Works (HASEKO-KUMA HALL website)
スターリングエンジン演習作品の展示紹介映像 (HASEKO-KUMA HALLサイト)
What is a Stirling Engine?
A Stirling engine is an external combustion engine that uses external heat sources. While most people typically think of internal combustion engines like those found in cars, Stirling engines are expected to see future development due to their advantages, including the ability to use various heat sources, low noise levels, and clean exhaust gases.
3rd Year A Semester
Mechatronics Exercise
[Mechatronics Exercise]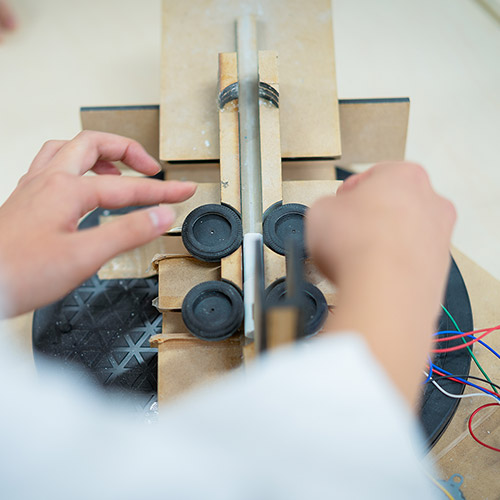 Objectives

Most modern mechanical products extensively depend on electronic control systems. This reliance is evident in information devices like smartphones, home appliances such as air conditioners, transport machinery such as automobiles, and robots that support production and daily life. The study of electronic control applied to these machines is called mechatronics, a term originating from Japanese-made English, which combines 'mechanics' and 'electronics.' In this exercise, students design, produce, and present 'Mechatronic toys.' These creations integrate sensors (such as optical and image sensors), actuators (including motors and other power devices), and the programming and electronic circuits that link them, from the conceptualization to the final design. Through this hands-on experience, students acquire valuable insights into the creative design process, encompassing both the "what" and "how" aspects of bringing their ideas to life.
Contents

Over approximately ten sessions, students will collaborate in teams to conceive, design, and construct 'interesting mechatronic toys' entirely from their ideas, curiosity, and imagination. While the Stirling engine exercise centers around metalworking, the mechatronics exercise broadens the scope of production methods to include 3D printers, laser cutters for woodworking and plastics, and manual assembly, among others. Since 2020, the final presentation format has transitioned to a video crafted by students. In this video, students showcase the mechanics of the 'mechatronic toy' and design and create a distinctive worldview. In addition to the video presentation, the Mechatronics Exercise reintroduced the on-site demonstration from the 2022 academic year, featuring guest appearances from prominent Japanese manufacturing companies. Furthermore, the event includes voting and awards, creating an atmosphere filled with laughter and cheers, making this exercise consistently engaging and dynamic."
Works from the past projects
Creative Design Selective Exercise - 3rd Year A Seminar
Fluid Simulation Exercise
Objectives

Computational fluid dynamics (CFD) is a simulation method that discretizes the governing equations of fluid phenomena (continuity equations, partial differential equations such as Navier-Stokes equations) in time and space, and analyzes the flow field numerically using computers. CFD is one of the indispensable computer-aided engineering (CAE) tools for product design and performance evaluation in the industrial world. The objective of this course is to master the fundamentals of CFD through the analysis of flow around airfoils and flow in microchannels, and to develop a foundation to be able to perform more advanced CFD simulations in the process of research in the future.
Contents

In the exercise, students will experience CFD simulation using OpenFOAM. In the analysis of flow around a Joukowski airfoil, students observe how the flow field changes when the angle of attack is changed, and compare the lift and drag coefficients with experimental values to confirm the validity and applicability of CFD. coefficients are compared with experimental values to confirm the validity and applicability of CFD. In the analysis of droplet behavior in microchannels, the effects of channel width, wettability, shear rate, and other factors on the movement of the contact line will be examined, and fluidic phenomena unique to microchannels will be discussed. Through these exercises, students will develop basic and practical skills related to CFD of flow around objects and gas-liquid two-phase flow.
Creative Design Selective Exercise - 3rd Year A Seminar
Micro Manufacturing Exercise [MEMS Exercise]
Objectives

We are surrounded by many things fabricated by nano- and micrometer-scale microfabrication and integration technologies, such as microscopic sensors and switches, integrated circuits, and power and energy generation devices. In this seminar, students learn "micro manufacturing" through understanding the principles and fabrication techniques of MEMS (Micro Electro Mechanical Systems). Students will not only learn about the four dynamics and design of mechanical systems, but also survey academic papers and literature to challenge themselves to design, fabricate, measure and evaluate state-of-the-art nano- and micro-devices.
Contents

While learning nano- and micro-scale microfabrication and integration technologies, students design and fabricate their own devices using CAD and numerical simulation, and measure and evaluate their performance and functions. Each group will set its own theme, research the latest related academic papers and literature, and design devices by referring to them. While designing detailed device structures, students examine device fabrication and assembly procedures and clean-room processes, and actually fabricate devices in a clean room (photolithography, deposition of metal and polymer films, etching, etc.).
Creative Design Selective Exercise - 3rd Year A Seminar
Simulation Exercise
Objectives

Computer simulation technology has already become an indispensable tool in modern manufacturing, and its usage is expected to further increase. In order to make good use of simulation, it is important not only to know how to operate software, but also to understand how calculations are actually performed, under what rules and are the procedures behind the scenes. In this exercise, students will learn the basic techniques and concepts through the experience of actually developing simulation programs.
Contents

In this exercise, students delve into two-dimensional particle simulation (employing the individual element method and molecular dynamics method) and the finite element method. Initially, students code some parts of the algorithms and engage in the practical development of simulations. Subsequently, leveraging these foundational programs, students craft their original simulation programs, aligning with their interests. The exercise guides them from the initial question of "How can I realize such a thing in a simulation?" to the hands-on creation of the simulation. Additionally, in the elective exercise, students can explore simulations related to the research field of the faculty member overseeing the course if they choose to do so.
Creative Design Selective Exercise (second half) - 3rd Year A Seminar
Pre-Undergraduate Thesis (Students will join a laboratory to do research activities )
Objectives

Since the 2022 academic year, the second half of the Creative Design Exercise in the third year incorporates a "pre-thesis" activity within each laboratory. This activity serves as a preliminary experience before students embark on comprehensive "research" for their graduation thesis in their fourth year. Invariably, research involves a systematic process of hypothesis formulation and substantiation. This skill is essential in research and various creative endeavors worldwide, encompassing the design of products and services. This course allows students to immerse themselves in practical research activities, providing practical exercises through "research" across all laboratories within the Mechanical Engineering Department.
Contents

During the 15 sessions of the Creative Design Exercise, students will delve into cutting-edge "research," focusing on specific research themes within their assigned laboratories. The project goes beyond the themes explored in the Stirling Engine, Mechatronics, Digital Design, Micro Manufacturing, and Simulation Exercise, allowing students to engage with more profound and more advanced topics, addressing actual social issues. With the support of fourth-year students, master's and doctoral candidates, researchers, and faculty members in each laboratory, participants also get a glimpse into the laboratory life they will experience when entering the fourth year.